Did you see our mention in the Guardian on Thursday? Not THE Guardian, the Oxfordshire Guardian!
In case you missed it, here's what they had to say about the effect of Brexit on consumer confidence…
In a post-Brexit world of uncertainty, many local consumers are making more considered choices with their major purchases.

Investing in a new car is one of the biggest financial commitments we make in our lifetime. Which is why this economically confused climate is causing such consternation for consumers considering the purchase of a new car.
One local business that has been bucking the trend for caution is THAME Cars, who have recently relocated to bigger premises on the site of the old Ford garage on Rycote Lane. Their core offering of high quality cars at a fraction of dealership prices has positioned them as the obvious choice for customers looking for certainty and leadership.
Back in 1994 when they first opened for business in Thame, founder Karl White was confident that he had stumbled on a need for just such a local service.
"On the first day we opened, we sold our first car by lunchtime, and by tea time two more had rolled out the gates", Karl proudly reminisced. "But I knew that if I was going to grow the business we were going to have to do things differently to everybody else."
So he set about creating a customer-centric business model, that stripped out the confusion and made the process of buying a car as straight forward and enjoyable as possible.
That was 22 years ago and since then a lot has happened to both the business and the world we live in.
"We've always been focused on the customer, and a part of that has been to offer the best products at the best price", said Karl. "Whilst the price of new cars has gone up in recent years, we've been able to hold - or in many cased drop - the screen price of our range".
"Our customers have always been a savvy bunch", he continued.
"They want the same level of quality and reliability as a brand new car. They want that 'new car smell' and feeling of pride & satisfaction you get from sliding in behind the wheel for the first time. But they also know that by opting for a model a year or two old they can get all of this for about half the price of a brand new car".
When asked about the other ingredients for his success, Karl was quick to answer: "Community". He went on to explain, "Thame is a fantastic place to live & work. We try to get involved in as many events and causes in the town as possible, and it's great to feel a part of something important."
Testimony to this can be easily found with a quick canvas of opinion in the High Street. 9 out of 10 people asked, quickly named THAME Cars as one of the town's most prominent and positive brands.
The recent decision to leave the EU has left many people reeling and uncertain about what the future holds. But in the middle of the turmoil, THAME Cars are confidently leading the way with their strong, and very evident values of quality, service, and customer care.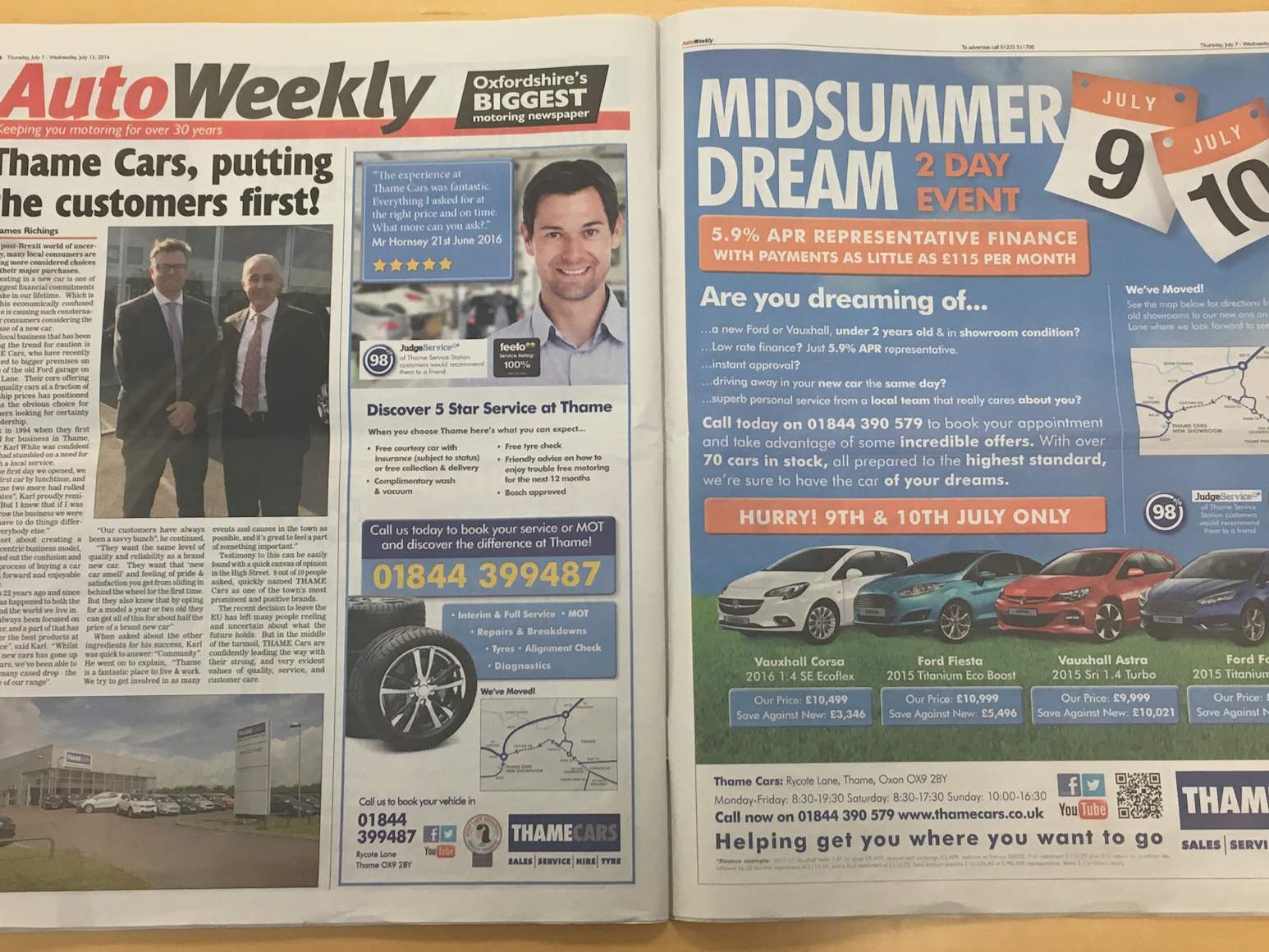 We're very happy to be a part of the local community, and proud of what we've achieved over the last couple of decades.
Have a good weekend.
Happy Driving